Master Nicholls visit to Khalsa Taekwon-do (Feltham)
4th October 2013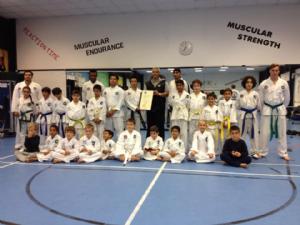 Master Trevor Nicholls took time out of his busy schedule to visit Khalsa TKD in Feltham. Black belt certificate,pin and belt was awarded to Laxman Thapa for passing his 1st degree test, first ever student to be promoted to black belt since the opening of the Feltham school.
Master Nicholls gave words on moral culture before the class ended with lots of pictures and questions. Everyone at Khalsa TKD Academy from instructors, students to parents likes to take this opportunity to thank Master Nicholls for his encouragement and support.