BTC Registered Instructor Course
14th March 2011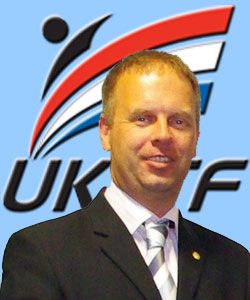 The new 2011 BTC Registered Instructor course was presented for the first time to UK ITF.
Saturday the 12th of March saw 118 applicants arrive at Mellow Lane Secondary School for what was to be the first showing of the new and improved BTC Registered Instructor Course. This course developed by the BTC and released for 2011 has a vast amount of extra information enabling the candidates to receive a more in-depth knowledge on the vital areas involved in teaching Taekwon-Do to the public.
Seated in round tables of 10 to enable discussion throughout the course, the candidates were taken through the presentation by Mark Skyrme the course verifier. New to the course are the evaluation forms where the candidates are able to supply feedback on the presentation, content and course material provided. The new presentation and packs cover far more reaching aspects of Taekwon-Do instruction and should prove very useful for UK ITF instructors.
With such a huge amount of content to cover we had planned a full day of intense brain training, starting at 10am the course was concluded by 5pm. I would like to thank Miss Laurie Cornwell for organising the location and keeping the tea urn topped up! Mrs Terry Humphries for her work on the slide presentation, and both with Dr Hayley Parker for their help in double checking the candidates applications. Last but not least Master Nicholls for providing lunch for all of us.
All candidate applications have now been forwarded on to the BTC and should appear on the BTC website shortly. Click here to view UK ITF qualified instructors.