1st Kup Cup.
3rd December 2010
On Sunday November 28th Imperial Ireland hosted its first competition. It had snowed heavily for two days before and this made driving conditions hazardous but we still received great support on the day with members of Mr Chris McCabe's EastCoast Taekwon Do from Dublin / Wicklow area, Mr. Ruairi O' Brien's Redking Taekwon Do from Cashel and Mr Jim Dowling from Tullow Taekwon Do making the trip down and most of our students braved the elements to ensure we had a good day of competition. The main aim of this event is to encourage coloured belt students both young and old to venture into competition. It is a perpetual cup event and based on a points system where a Gold medal is worth six points, four for a Silver and two for Bronze, the winning group / association is the one who has the highest points total at the end of the day. As many of our own members had never been to a competition before, it was an ideal opportunity for them to show how well they are progressing by taking on the other groups in their home town being cheered on by family and friends. There were many outstanding performances by Imperial Ireland students but one of the best was by double Gold medal winner Nina May Brady who at five years old must have a bright future in competition. Chelsey Pitman also scored a double Gold. Fellow Imperial Ireland students Jack O' Connor and Ruairi O' Sullivan put on a fantastic show in the final of the White - Green Under 10 Boys section with Jack eventually winning in extra time. However, despite these fantastic performances the hosts lost out to Tullow Taekwon Do by a handful of points and their instructor Jim Dowling was presented with the Kup Cup for the first time by Mick Flaherty. Next year's event will be held in October in an effort to beat the bad weather. Mr Peter Scott from Scotland has already indicated that Imperial Scotland will be supporting and trying to bring the cup away with them so perhaps more of the UKITF groups and partners might take up the challenge also!
News Statistics
Added: 3rd December 2010
[Views: 2138]
Do you have news?
If there is an item of news that you would like to show on this site then please use our contact us form
<!====================== Begin MailChimp Signup Form ======================>
---
Find Out More
Find a School
Joins Us !
Contact Us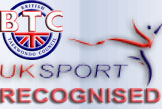 UK ITF Instructors are accredited by the British Taekwondo Council, national governing body for Taekwondo in the UK, which includes DBS/PVG Scheme Enhanced certification, insurance and continued professional development