Imperial Ireland in Scotland.
1st April 2010
Saturday morning 7.15 am, the five travelling members met in Wexford for the 200 mile drive to Belfast in order to catch the ferry to Stranraer. What a pretty place Scotland is, but the drive on that side was mad, 30 & 50 mile speed limits slowed our progress and it was about 8pm before we made it to Edinburgh. Crazy how all the laughter and jokes stop on the morning of the championships! We arrived at the Dalkeith Campus to a warm welcome by Miss Divine and then it was doboks on and time for the action to begin. Our first competitor in action was Mary Long, who provided us with the perfect start, Gold in Adult Coloured Belt patterns, quickly followed by Bronze from Paul Roche and Mark Campbell. Then, fresh from a 6 year competition break Mr. Flaherty took Silver in the Senior Patterns section. Cory Stephen was unlucky not to be amongst the medals. Sparring time and yet again Mary Long produced a spirited performance taking a Silver medal and Mark Campbell had sparks flying in his fights before taking a hard earned Silver. These two students only took up Taekwon Do last September and are shining at every event they enter. Mr Flaherty took Bronze in the Senior Sparring event. Mark Campbell also took Gold for the Special Technique. This was a fantastic event for us, five competitors and eight medals. The welcome we received from all the other competitors and Instructors made the trip a huge success for us and we look forward to making further trips in the very near future.
News Statistics
Added: 1st April 2010
[Views: 2586]
Do you have news?
If there is an item of news that you would like to show on this site then please use our contact us form

---
---
---
Find Out More
Find a School
Joins Us !
Contact Us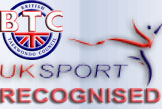 UK ITF Instructors are accredited by the British Taekwondo Council, national governing body for Taekwondo in the UK, which includes DBS/PVG Scheme Enhanced certification, insurance and continued professional development