Imperial Taekwon Do Ireland - Westpoint Academy.
24th January 2010
Some of our members attended a tournament hosted by Master Dalton's I.U.T.F. in south west Ireland and once again we have shown that we are certainly on course in both Patterns and Sparring. Assistant Instructor Bernadette Doyle won Bronze in both Patterns & Sparring Black Belt sections, Cory Stephen took Silver in Black Belt Patterns in his first competition in the seniors section. Mary Long won Silver in Sparring and Patterns while fellow Yellow Belt member Mark Campbell took Gold in Patterns. Well done to all those who made the trip.
News Statistics
Added: 24th January 2010
[Views: 2440]
Do you have news?
If there is an item of news that you would like to show on this site then please use our contact us form

---
---
---
Find Out More
Find a School
Joins Us !
Contact Us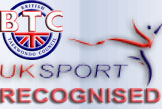 UK ITF Instructors are accredited by the British Taekwondo Council, national governing body for Taekwondo in the UK, which includes DBS/PVG Scheme Enhanced certification, insurance and continued professional development