Photo Gallery
Click to view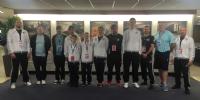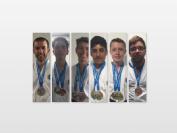 This has been the most successful International championships to date as far as individual medals for the UTA, 5 Gold, 1 Silver, and 2 Bronze. 1 UK team Gold and 1 UK team bronze for Lewis Lavery part of the junior team.
Katharine Bowers- Gold Patterns, Bronze Sparring
Simon Bowers- Silver Sparring
Vikram Lehil- Gold Sparring, Gold Destruction
Elliott Callahan- Gold Sparring, Gold Patterns
Adam Jones- Bronze Destruction
Lewis Lavery- no medal even after two wins in individual but put in a great performance. Gold in male junior team Sparring, Bronze in male junior team Patterns
Leighton Callahan- no medal but put in a great performance and did us proud
Written by: UTA - 9th September 2016

Sorry, but you need to login to your account to add feedback.
Login now, or if you are not a member then apply to join here