Photo Gallery
Click to view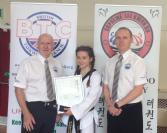 Emily lives in Cheshire, but travels down to Stoke Gifford to train with the club & other members of UK ITF Bristol. The family met Mr & Mrs Beddows when Emily participated in the BTC Touch Gloves demonstration in Bristol, April 2014. Emily then started training with Supreme Taekwon-do, Widnes, under the instruction of Master Lee Beddows, 7th Dan. This proved great extra training during the week when it was not possible to travel to Bristol. Under Master Beddows tuition & guidance she has gone on to enter a few WTF competitions with great success.
Earlier this year, Emily was approached by Mr Beddows & Master Beddows, to do her WTF 1st Dan. As she was already a 2nd Degree within the ITF & with the approval and backing from Grand Master Nicholls, Emily was invited to grade on Sunday 30th August. Emily performed in a 90 minute grading, in the presence of Master Lee, Kevin Beddows, and Barry and Sarah, who are the assistant instructors. She did amazingly well, with the extra pressure of being the only student grading.
Once again we are very proud of Emily''s dedication & perseverance within Taekwon-do.
Written by: Kerry Burridge - 2nd September 2015

Sorry, but you need to login to your account to add feedback.
Login now, or if you are not a member then apply to join here