In a much anticipated title defence Pro-Taekwon's Matthew Brunger travelled to the Casino Rooms in Rochester in order to give Ben Barr a shot at taking his IKF Super Welter Weight Southern Area Title. Sunday 24th November saw Matt weigh in .3kg under the 69.5Kg fight limit and with hours to go to the fight, the Pro-TaeKwon camp went for some food and stocked up on fight essentials.
With the fight fast approaching, Matt began a basic warm up with his coaching team before going through last minute tactics and a well thought through game plan… Walking to the ring, Matt looked cool and collected unfazed by the crowd, flashing lights and a formidable opponent.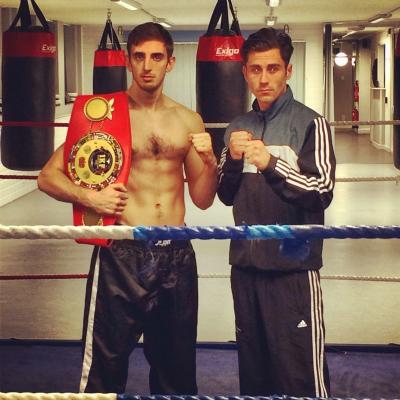 Seconds up round one…. Matthew dominated from the outset, slick, well timed shots as well as class movement left Barr swinging at shadows. Barr regrouped slightly towards the end of the round coming forward with some heavy shots, unperturbed Matt throws a venomous right hook sending Barr to the canvas and raising the crowd in emphatic fashion! A dazed Barr rose to his feet after an eight count; bell goes… Barr survives by the skin of his teeth.
Rounds two and three played a similar tune, Matt fighting with a new found swagger and confidence. Shoot and move was clearly the game plan with Matt incorporating sharp hands and electric kicks and it seemed Barr just didn't have an answer. Every time Barr tried to rough the fight up Matt moved, regained his distance and brought the fight back to where he wanted it.
Round 4 however saw Barr come out strong; from the bell he put the pressure on Matt. Throwing big hands and an occasional mid-section kick, Barr seemed to be growing in confidence… although Matthew was still catching Barr with the clean shots and after soaking up the pressure and taking a right hand Matt turned out of the corner and dropped Barr AGAIN with a huge axe kick, dragging Barr to the canvas. This time rising much quicker than before but none the less what looked to be Barr's round Matt had stolen with a clinical kick leaving Barr looking disheartened.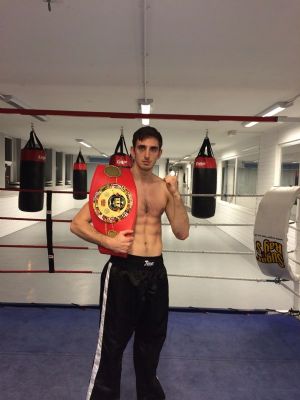 Final round and with a clear lead Matthew listened to his corner men keeping Barr at range with text book sidekicks, every time stopping him in his tracks not letting him gain any momentum... Bell goes and the fights finished; it was clear to the crowd the belt was staying around the same waist it came in on.
Fighters walk to the centre of the ring and the decision is clarified. Matthew Brunger of Pro-Taekwon retains his title with a Unanimous Decision.
Written by: Trenic TKD - 2nd December 2013

Sorry, but you need to login to your account to add feedback.
Login now, or if you are not a member then apply to join here