Photo Gallery
Click to view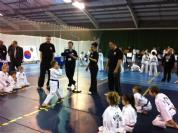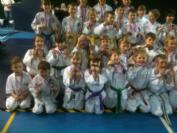 Region 5 STOMP Sunday 21st April 2013
View all articles


Region 5 STOMP Sunday 21st April 2013
What an amazing day Region 5ís first STOMP event turned out to be. Age ranged from 4 years all the way up to 12 years. Some groups were mixed genders; however this did not seem to faze any of the competitor, they just got on with it and enjoyed the day.
The day started at 8am for weigh in and height checks, followed by ring assignments at 8.30am, competition started at 9am.
Ring one started off with Taekwon-Do Patterns, followed by sparring, then a quick break before re-commencing with the speed test.
Ring two started off with 30 second movement from the Generation X students, followed by speed test, then a quick break before re-commencing for sparring.
All competitors then lined up in a huge line, smallest to tallest dividing the groups into 4 groups the tournament carried on for the high kick event.
The tournament ran as smooth as clockwork, making an early finish at 2.30pm, which was a HUGE bonus for everyone involved.
I would just like to show my appreciation and thank all referees, umpires and event staff for jobs well done, and helping this STOMP run so smoothly.
I would also like to thank ALL families, friends, parents, grandparents and of course all competitors, without your support events like this would not go ahead.
THANK YOU!!!!!!!
Results Page 3
Written by: Region 5 - 9th May 2013

Sorry, but you need to login to your account to add feedback.
Login now, or if you are not a member then apply to join here