Photo Gallery
Click to view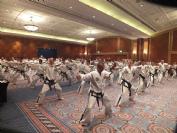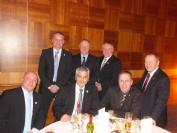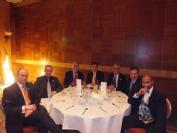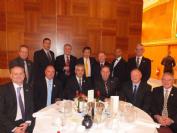 The weekend displayed an International flavour with Countries attending including,Netherlands, Czech, Sweden, Belgium, Australia, Venezuela, Switzerland, Greece , Ireland, Poland and of course England Wales and Scotland. The Course was held over two full days where Master Choi was assisted by a number of Masters namely Lawes, Gassor, Deedigan, Bertrand, Zondag, Creedon, Forgbert, Woods, Jones and Nicholls; the evening banquet both Masters Hogan and Skyrme attended.
As always with Master Choi a number of topics were covered, all enhanced or illustrated with a "Do" Input aligned with a physical impact. It was highlighted on many occasions that this course is an instructor's course and it is to support all of those present in their own style of Taekwon Do Delivery the mission and intent of ITF Taekwon Do...The course encouraged and engaged with and into many discussions around technique performance along with a number of Student demonstrations.
The banquet witnessed and applauded recipients of appreciation tankards, the recipients being Kerry Burridge for her outstanding leadership in Tournaments and Umpires, Lee Hollingsworth in Technical Delivery, Reece Nicholls coaching mentor, Mark and Wendy Richards Umpiring, and Ashley Nicholls for HQ duties over and above the role of administrator.Two further awards were made one to our President in recognition of the event and a second to Steve Zondag; in recognition of an outstanding Taekwon Do career and continued support of all ITF activities resulting in his promotion to Eighth Degree.Kerry Burridge also made an emotional application award to Phoebe Grandfield.
The event as always came to an end with the customary group and individual photographs with Master Choi along with book and licence signing.
As always a thank you to all the organisers, Master Choi and the ITF for yet another successful event.
UK ITF
Written by: UK ITF Admin - 18th March 2013

Sorry, but you need to login to your account to add feedback.
Login now, or if you are not a member then apply to join here