Photo Gallery
Click to view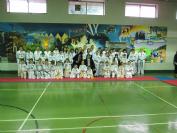 Members of Shaftesbury TKD, Wirral UKTA, Blue Dragon Northwich and Formby TKD gathered for an interclub friendly competition involving patterns and power, the day was a great success! There were over 50 competitors from the four schools, and some great performances were shown on the day. Wirral UKTA Dominated in the patterns, and Shaftesbury went on to be the power champions.. An impressive selection of breaking techiques were performed by the blackbelts, and an Imptec power bag was used for the other power categories! The highest score of 117 was achieved in the power category by Sam McNee closely followed by Cy Cooper with 105.
All participants received a medal and the day was a great success - Thanks to all who took part!
Written by: Michael Carr - 30th September 2012

Sorry, but you need to login to your account to add feedback.
Login now, or if you are not a member then apply to join here