England Region 1 Competitors Ready for Worlds
View all articles

Comments: 1
Just finished the last session for the competitors from UK ITF England region 1 before they leave for Ottawa and the World Championships. pictured left to right:-
Aaron Mather, Laurie Cornwell, Matt Brunger, Luke Dempsey and Jay Gilbert.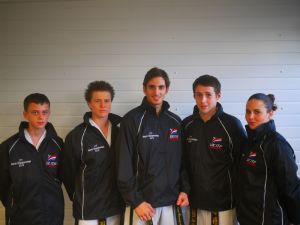 On behalf of all the instructors and students I wish you the very best of luck in Canada 2012 for which you have all trained and prepared well for.
Mandeep Rauli (Regional Coach)
Written by: Mandeep Rauli - 4th August 2012
[Comments: 1]
Sorry, but you need to login to your account to add feedback.
Login now, or if you are not a member then apply to join here
Article Feedback:
Laurie Cornwell ( UK ITF) : 4th August 2012, 18:54

Thanks Sir. We are very grateful for your support, and the 6.15am starts.