Photo Gallery
Click to view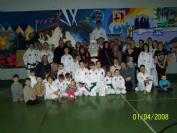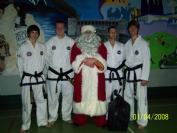 Shaftesbury TKD - Last lesson of 2011!
View all articles

Comments: 2
Shaftesbury TKD celebrated another year of Taekwon-do this evening with the annual visit from Father Christmas, and a violin concerto from Mr Carr.. Many thanks to everybody at UK-ITF for the support and company throughout the year!

A picture is worth 1000 words..


Written by: Michael Carr - 19th December 2011
[Comments: 2]
Sorry, but you need to login to your account to add feedback.
Login now, or if you are not a member then apply to join here
Article Feedback:
Ary Adrian Prins : 29th December 2011, 17:26


Cutbacks have hit Santa this year, hence 2 elves travelling on the shoulders of a 2nd Dan, instead of a sleigh.But would not like the food bill for Phil though, think Santa has screwed up his costings there.
Mark Skyrme ( UK ITF) : 20th December 2011, 09:36

Merry Christmas!