Photo Gallery
Click to view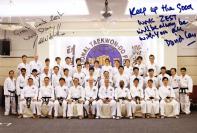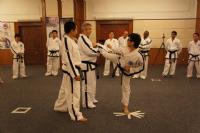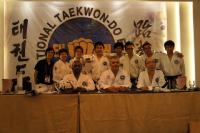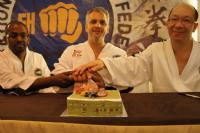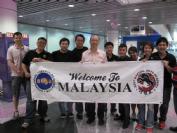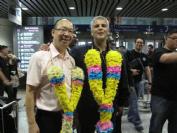 Malaysia Master Class 2011 by Master Trevor Nicholls VIII Dan
View all articles

Comments: 2
On 14th Oct 2011, The ITF-Secretary General Master Trevor Nicholls arrived at KLIA, accompanied by Master David Lau from Hong Kong and Hong Kong TKD Team. They were greeted by event host MO #427 Zest Mr.Andy Low, Mr.Ivan Liew and Ms.Angel Low included Master Bathi (INO #359), Mr.Chin from JB (MO #349) and Ms.Sharon from Penang (MO #442) as well as other members of ITF-Malaysia.

On the way to KL Sentral by KLIA Express, The new MO #442 Ms.Sharon has been introduced to Master Trevor Nicholls. For short briefing regarding ITF structure and management.

After Checked in to the Hotel Maluri Cheras, Official meeting was performed right away befor dinner. Master Nicholls explained fully about the of INO/MO management and the vision of ITF-Malaysia future and planing. Itís a very meaningful and important meeting towards ITF-Malaysia members.

On 15th Oct 2011,Saturday. The Master Class began at 9 o''''clock,were a total of black belts and colour belts attended, also 4 members from Hong Kong and 1 member came all the way from singapore to join the Master Class. The class went on all day from 9am till 3.30pm were Basic drills, Fundamental movements, explanation on the true value of techniques were taught and performed.
After class at 3.30pm, Certificate presentation were held. In the middle of presentation Master Trevor Nicholls was adknowledge that one of the member of organiser Ms.Angel birthday was in the same date. We were having a surprise birthday bash! At night, We received a good news from ITF that Mr Khoo Bu Leong from Ipoh had register a new MO - MO#453(Martial Arts Taekwondo Academy)

Master Trevor Nicholls and Master David Lau left Malaysia on the next day, all members of ITF-Malaysia are looking forward on the next visit of Master in Malaysia.

Without any support from member of organization stated below this meaningful event will not be able to successfully proceed.
INO #359 - Master A.V.S. Bathi Allimuthu (Kuala Lumpur)
MO #304 - Mr.Goh form Sarawak Global Taekwon-do Association (Sarawak)
MO #349 - Mr.Chin from Persatuan Taekwon-do Daerah Kota Tinggi (Johor)
MO #442 - Ms.Sharon from Elite Taekwon-do Academy (Penang)
MO #449 - Mr.Kenneth Khoo from Korean Martial Arts Academy (Selangor)
MO #451 - Mr.Wee from Wee Martial Arts Training Centre (Johor)

Special thanks to members from MO #427 Zest Martial Arts Academy (Kuala Lumpur) this canít be done without you guys.
Mr.Ivan Liew, Ms.Angel Low, Mr.Aaron Chong, Ms.Yap Ching Siew, Mr.Benjamin Chew, Ms.Emily Low and Mr.Jimmy Khoo.


Written by: Andy low from MO#427 - 1st November 2011
[Comments: 2]
Sorry, but you need to login to your account to add feedback.
Login now, or if you are not a member then apply to join here
Article Feedback:
Peter R Scott ( UK ITF) : 22nd December 2011, 19:24

Thanks for sharing.....it looks and sounds like a fantastic sucsess!
Mark Skyrme ( UK ITF) : 2nd November 2011, 15:11

Looks like another great seminar!