Photo Gallery
Click to view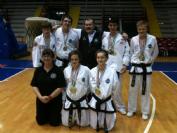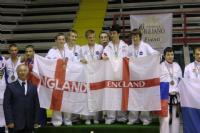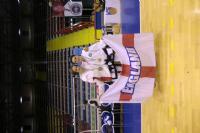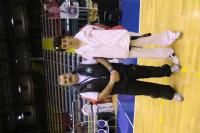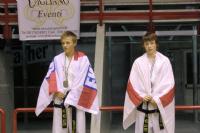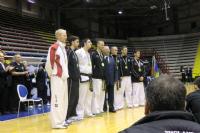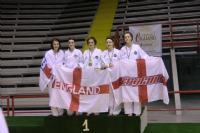 Region 4 at the European Championships, Naples 2011
View all articles

Comments: 4
We all arrived in Naples on 19th October and settled into the hotel, along with the rest of the England Team, ready for the weigh in and coaches/ umpire meetings scheduled for the 20th. After all the formalities those close to their weight breathed a sigh of relief and the rest of us went in search of a supermarket or shop to buy the necessary water, chocolate etc for the next few days !!
After that it was time to put some light practice in just to keep it all fresh in the minds, so all hands on deck to find a flat clear area .
The coaches and umpires went in the evening over to another hotel for the meeting and draws for the tournament. There were 17 countries in attendance so we knew it was going to be a tough competition.

The first day of the tournament dawned and I think Mr Richards and myself were more nervous than the competitors as all six of the region 4 competitors came from our St Austell Club , and they were all in the teams events as well !!

I don''t know why we were nervous as they were amazing , in total Region 4 had 26 medals overall from 6 competitors, we were over the moon. Sam managed to make us all laugh and worry at the same time when he competed at the special techniques, he leapt up touched the board, landed properly , the board then dropped from the holder and he ended up with 4 stitches in his head !!! Hence the dressing on his head for most of the photos.
The results in full :

Sam Richards : GOLD , Individual 3rd degree junior male patterns
GOLD, Team junior male patterns
SILVER, Team junior male sparring
SILVER Team junior male power breaking
SILVER Team junior male special technique

Jake Thomas : BRONZE : Individual 2nd degree junior male patterns
GOLD : Team junior male patterns
SILVER : Team junior male special technique

Adam Everett : BRONZE ; Individual junior male 2nd degree patterns
GOLD : Team junior male patterns
SILVER : Team junior male power breaking

Tom Rawling : GOLD : Team adult male Patterns
GOLD : Overall adult male team champions

Beth Martin : GOLD : Individual junior female middle weight sparring
SILVER : Individual junior female 2nd degree patterns
GOLD : Team junior female sparring
GOLD : Team junior female patterns
GOLD : Team junior female special technique
GOLD : Team Junior female power breaking
GOLD : Overall junior female team champions

Robyn Hough ; GOLD Individual junior female micro weight sparring
GOLD Team junior female patterns
GOLD Team junior female sparring
GOLD Team junior female special technique
GOLD Overall junior female team champions


Written by: Wendy Ann Richards - 27th October 2011
[Comments: 4]
Sorry, but you need to login to your account to add feedback.
Login now, or if you are not a member then apply to join here
Article Feedback:
Luke Dempsey ( UK ITF) : 30th October 2011, 20:09

I just want to say a HUGE thank you to Mr Richards, the junior male coach for winning the medals for and with us. Thanks :-)
Leanne Gassor-Jones : 28th October 2011, 18:55

Excellent results Mr & Mrs Richards! Well done to you all from everyone at Gassor's Taekwon-do Wales :-)
Christopher Devine : 28th October 2011, 12:50

Well done folks - fantastic results!
Mark Skyrme ( UK ITF) : 28th October 2011, 09:25

Great Results from a great event. Well done!