Photo Gallery
Click to view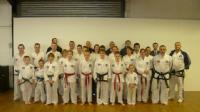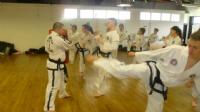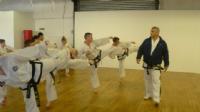 ITA Scotland Master Nicholls seminar
View all articles

Comments: 4
On Sunday 28th November students gathered at the No1 dance & martial arts studio in Irvine, Ayrshire eagerly awaiting the arrival of Master Nicholls. Unfortunately due to the almost artic conditions most of the students from Edinburgh could not travel through in time for the seminar. Master Nicholls was picked up at the airport by Mr Mullin and after driving through a blizzard for the best part of the journey managed to make it to the venue only ten minutes late.

Once into the venue and changed into doboks Master Nicholls greeted the students who had made it and set the tone for the day…Kicking…and loads of it. Most of the students attending had never met Master Nicholls before and after the nerves had settled and the sweating had started what followed was an excellent hour and a half of different kicking techniques with postures, body positioning and correct angles of attack all being explained in great detail. After being drilled and drilled again everyone was beginning understand the principles being explained and hopefully will take a lot away from the seminar and use their newfound understanding to help improve their kicking ability.

Before we knew it the hour and a half was over and it was time to finish but showing true indomitable spirit Mr Scott and his students arrived at the venue all the way from the east coast and used the little time they had with master Nicholls to squeeze in a quick photo opportunity. Mr Scott's students show massive enthusiasm and are willing to travel all over for taekwon-do and really are a credit to him. After the photo session was over it was time for a quick change and preparations were made for the black belt grading which was up next, the report for that will follow shortly.

On a final note imperial Scotland would like to extend a massive thank you to Master Nicholls for giving up his time and energy coming up to the frozen wastes of Scotland and we would especially like to thank him for donating all proceeds of the seminar to our fundraising for next year, we really appreciate it.


Written by: Sean Mullin - 29th November 2010
[Comments: 4]
Sorry, but you need to login to your account to add feedback.
Login now, or if you are not a member then apply to join here
Article Feedback:
: 4th December 2010, 21:15

Great report and it sounds like another tough session from Master Nicholls (just like in Bristol). Once again the generous nature of Master Nicholls shines through. Well done to all concerned.
Peter R Scott ( UK ITF) : 30th November 2010, 13:44

Great report, I'm just gutted that our four and a half hour snow battle prevented us from being taught by Master Nicholls! A big thanks to Mr Sean Mullin for organising such a great event and to Master Nicholls for donating all proceeds to Imperial Scotland's Squad Fund.
Christopher Devine : 29th November 2010, 14:29

Sounds like we missed a good session thanks to the snow. Glad you all managed to benefit from Master Nicholls' knowledge on kicking - something I could definitely have done with myself.
It was good to see Master Nicholls, yourself Sir, Mr Harkin and Mr McCrory and of course, Mr Harkin's impressive new training facility.
Mark Skyrme ( UK ITF) : 29th November 2010, 13:07

Glad it went well, even with the weather...