Photo Gallery
Click to view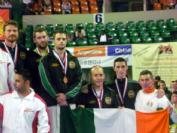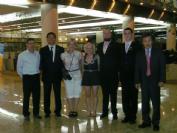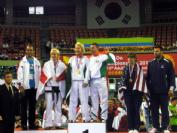 Imperial Ireland Success at World Championships 2010
View all articles


It was the first World Championships that Imperial Ireland students Bernadette Doyle and John O'' Connor had attended but it was successful beyond belief for both of them. Together with their instructor Michael Flaherty V Degree who was part of Team Ireland''s coaching team, they set off with high hopes.

Winning medals at any championships is never an easy task, however, winnings medals at the Worlds where the world''s elite Taekwon Do people are is the stuff of dreams, so when Bernadette Doyle scored the first few points in her first fight at this level against Christine Fears from the U.S.A. it was very clear it would take a lot to stop her going all the way. After two tough rounds of two minutes, Bernadette ran out an easy winner by 14 points.

With just three minutes rest between the first bout and the final against Vicky Hart from England, Bernadette knew that all those hours of hard training which had been done over the past five months would be called upon against this fresh opponent. The first round was pretty even but Bernadette upped the workrate in the second round and proved to be much stronger in the finale before running out a clear 8 points to become the first Senior Female Heavyweight World Champion. With the Gold medal in the bag and spirits high, Bernadette, together with Neidin Coulahan (Red Star) and Laura Cremin (East Coast) took the Bronze medal in the Female Team Power competition.

Not to be outdone the second member of Imperial Ireland John O'' Connor, put in performances which were truely outstanding. In Individual Patterns section John beat competitors from Sweden and Scotland before bowing out in the pool finale to Italy. In the Individual Sparring section John was in the hotly contested -75kg catagory and he stopped his first opponent from the U.S.A. in round two. He then took a points decision over a Croatian. With only a three minute break before the next bout John just lost out to a very strong Argentinian by a 5 point margin and again in the pool finale, which unfortunately was just short of a medal. However, John did secure a place on the podium that was thoroughly deserved when the Male Power team smashed their way into the Bronze medal position.

These are fantastic results for an organisation which has only been in existance since last December and they are proof that the standard of Taekwon Do in the south east of Ireland is of world standard.

The five travelling members from Imperial Ireland also attended the two day Masters Seminar and whilst they learned a lot from the different Masters in attendance they also had a really fun time, meeting many new Taekwon Do friends and enjoying the beauty of Korea and its people.

4th August 2010

Sorry, but you need to login to your account to add feedback.
Login now, or if you are not a member then apply to join here