Photo Gallery
Click to view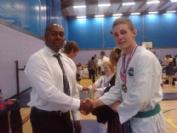 Shaftesbury interclub competition
View all articles

Comments: 2
Approximately 75 competitors and over 100 spectators gathered in Pensby Sports Complex on the Wirral for a friendly interclub competition. There was a good range of students - from White belt to 3rd Dan, from age 5 to 50.
The day began at 11:30am with 2 competition areas running simultaneously, after some excellent displays of patterns and sparring the competition was paused for lunch and the officials demonstrated breaking techniques and a team pattern - a nice addition to the day.
The focus was turned to black belt patterns and sparring after lunch, and after a display of unacceptable behaviour and disqualification of certain competitors it became clear that ITF Taekwon-Do develops not only excellent skills, but instills the tenets and a much more respectable attitude.
The officials worked hard to maintain a professional and enjoyable competition layout.
Thanks to Helen Bennett of Wirral UKTA for organising and hosting the competition.
Members of Shaftesbury TKD displayed excellent tenets and competition spirit, results will be posted shortly.
Congratulations Mr Matt Walls with 3 Gold Medals, pictured with Mr Winston Rose VI
Written by: Michael Carr - 13th July 2010
[Comments: 2]
Sorry, but you need to login to your account to add feedback.
Login now, or if you are not a member then apply to join here
Article Feedback:
Kay Z King : 16th July 2010, 13:05

Yeah,well done to all =)
Mark Skyrme ( UK ITF) : 13th July 2010, 13:32

Well done Shaftesbury TKD