Photo Gallery
Click to view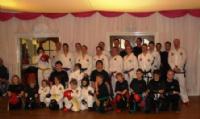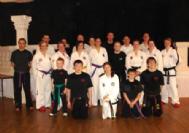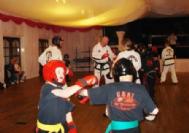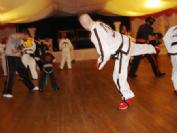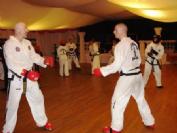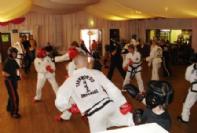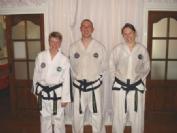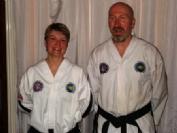 Region 2: Battle100 Fund-raiser
View all articles

Comments: 1
Well done Region 2 for completing Battle100!
What better way to spend your Sunday than leaping head-long into 100 rounds of sparring? We couldn't think of anything else that could please us more!
Region 2 hosted its first regional fund-raiser (Sunday 16May); 100x 1 minute continuous sparring. Students from Berkhamsted, Welwyn Garden City, Stevenage, and Dagnall Taekwon-do clubs were joined by local kickboxing clubs UMAI and Britannia Kickboxing to fight their way through a truly stamina testing event.
After the welcome, some safety house-keeping and warm-up by Mr Brennan, the music volume was cranked up and we all got stuck in. Two minute water breaks were scheduled after the 25th and 75th round, and a 5 minute break after the 50th round to break-off the juniors (under 12 years), take photos and hand out congratulatory pin badges to them. Some of the juniors stayed on for the last 50 rounds; raising the question whether the format should really have been juniors fighting for 100 rounds with those of us with a few extra years than we would like, breaking off at the 50!
All entry-fees are to go to supporting Imperial students who have been selected to compete at the 2010 ITF World Taekwon-do Championships. In Region 2 we have two students selected, Mr Dave Gurney (I) and Dr Hayley Parker (V). We extend our thanks and appreciation to everyone on their behalf. In addition, we were joined by Miss Katrina Todd from Focus Taekwon-do, who has been selected to compete at the World Championships and is funding herself with the help of sponsorship money raised through completing Battle100.
Students were also encouraged to seek sponsorship for their own particular charity or cause. Money was raised for St Joseph's Hospice, Multiple Sclerosis Charities, and equipment for kickboxing clubs.
At times the rounds seemed to fly-by, at others they appeared to take a little bit longer, but judging by the smiles afterwards and the Facebook status updates, everyone had a fantastic time. Although I think the adrenalin hadn't quite worn off…really guys, 150? 200? next time? We will see!
Well done everyone and many thanks to supporters, spectators and those that did the really hard work policing the contact (Mr Gurney), cranking the music volume up high (Miss Hill), and keeping the timing and number of rounds (Mr Lawrence, Mrs Gurney, Mrs Brown).
List of Participants;
Nicola Barke, Hayley Smyth, Hayley Parker, Dave Gurney, Nicola Brown, Izzy Brennan, Tom Brennan, Danielle Smyth, Amy Michie, Lee Ellis, Darren Hobbs, Mark Hill, Georgia Swan, Tom Lambourne, Freddie Ricketts, Oliver Barker, Daniel Leach, Henry Milton, Chris Reid, Jake Dryer, Brandon Bordoley, Tom Morrish, Conner Welsh, Luke Scott, Jamie Virtue, Callum Earey, Nick Morrish, Craig Lowe, Charlotte Hawkins, Jason Frampton.
Written by: Hayley Parker - 21st May 2010
[Comments: 1]
Sorry, but you need to login to your account to add feedback.
Login now, or if you are not a member then apply to join here
Article Feedback:
Nicola Barke : 25th November 2010, 22:31
Kerry Burridge ( UK ITF) : 26th May 2010, 11:00

Well done Hayley!