Photo Gallery
Click to view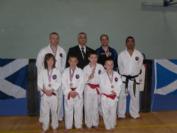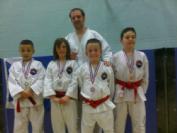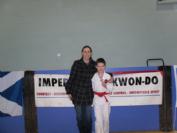 ITF Scottish Open Championships 2010
View all articles


On Sunday 28th March, 2010 Mr.Chris Thomas, Assistant Team Coach from The Martial Arts & Fitness Centre, Maindee took a team of seven students along with their supporters to the ITF Scottish Championships in Scotland.
The Taekwon-do students came away with 2 new Scottish Champions Ayrton Mullins and Christopher Thomas and won a total of 8 medals. Pictured with Master Trevor Nicholls, 8th Degree Black Belt General Secretary of the International Taekwon-do Federation are the medal winners; Ayrton Mullins Gold (Sparring) and Silver (Special Technique), Chris Thomas - Gold (Sparring) and Bronze (Patterns), Dana McAvoy Silver (Sparring), Samuel Taylor Bronze(Sparring), Lewis Hatchard Bronze (Sparring) and Karl Nielsen Bronze (Sparring).
Mrs Gassor-Jones, 4th Degree Black Belt Tournament Team Coach added 'On behalf of myself and all the MAFC Staff we would like to thank the parents, family & friends for their support and for travelling to Scotland. Also a big Thank you to all our students who competed in the Tournament and for representing our Club, we are very proud of you all and thank you to Wales ITF and Miss.Kerry Burridge for all your assistance and support''.
Written by: Emma Gassor - 12th April 2010

Sorry, but you need to login to your account to add feedback.
Login now, or if you are not a member then apply to join here