Photo Gallery
Click to view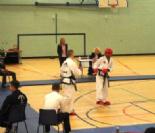 Imperial Region 2: At the Imperial Scottish Championships 2010
View all articles

Comments: 1
A few minor issues with transport and the loss of one hour sleeping did not adversely affect students from Region 2 at the 2010 Imperial Scottish Championships.Dr Parker, Mr Lawrence and Mrs Smyth (supported by Dr Parkerís Grandparents) were all highly successful at the tournament.
Dr Hayley Parker: GOLD Adult Female 5th Degree patterns and GOLD for Adult Female sparring under 60kg.
Mr Andrew Lawrence: GOLD Senior Male Black Belt Male 1st & 2nd Degree patterns and GOLD for Senior Male Black Belt Sparring >76kg.
Mrs Hayley Smyth: SILVER Senior Female red belt patterns and GOLD for Senior Female sparring 70kg+.
After competing, everyone (not forgetting Ms Sargent from the Leicester-area of Region 2 who had been umpiring all day), pitched in to help with the umpiring. The best way to see the action up-close. Thank you to Imperial Scotland for hosting a great competition and well done everyone who competed.

Written by: Mr Andrew Lawrence - 31st March 2010
[Comments: 1]
Sorry, but you need to login to your account to add feedback.
Login now, or if you are not a member then apply to join here
Article Feedback:
Mark Skyrme ( UK ITF) : 1st April 2010, 10:28

Well done region 2, Keep up the good work